PA With Mic Cuppers: Dealing With It
January 30 @ 6:00 pm - 10:00 pm
How Live Concert Monitor and FOH Engineers Handle Something That Is a Given If They Want To Keep Their Jobs
THIS WILL BE A HYBRID IN-PERSON AND ONLINE MEETING.
MEETING CONTENT STARTS at 6:00PM PST (UTC -8 ). In-person doors open about half an hour ahead, maybe Zoom doors do, too.
There are a few restaurants in the immediate area of the in-person meeting, if you want to arrive early and have a bite first. Or afterward.
This meeting will be recorded and viewable in the meeting recap on our website in the "Meeting Archives" section.
If you are located somewhere where 6pmPacific Standard Time (UTC -8) will be difficult to be awake for, don't sign up and but do plan to watch the video later at the AES PNW link below. But you do you. Signup is free.
Presented by
Christina Moon
Jesse Turner
Vince Agne
and
The Pacific Northwest Section of the Audio Engineering Society
At our wonderful October meeting about microphones, there was a lively discussion about people who wrap their hand around the microphone head and thereby simultaneously kill the directionality of the cardioid microphone and degrade the frequency response. Although both those things adversely affect the ability to faithfully reproduce the source signal, the practice continues in certain circles containing widely beloved and respected artists, and the resulting concert experiences repeatedly sell millions of concert tickets all over the world. From the performers' perspective, they are using a comfortable technique that does exactly what they want it to do and gives the look they want, and will most likely have no interest in suggestions from strangers how to better do what they do. Their technique and its results are already known and loved by legions of fans, or else they're emulating performers like that.
With live concert sound being a service industry, it's obvious that if the providers are not delivering the desired level of service, either in terms of perceived quality or from argumentative bad vibes, the clients will look elsewhere next time or even at that moment in the case of individual engineers. Engineers who don't want to be sent out of the building have to find a way to do their job.
So how do the monitor and FOH engineers achieve the desired goals and continue working those shows?
We'll find out from a group of respected live sound engineers who work all over the world, and invite you to join us and share your experiences in this area.
Our presenters will be:
Christina Moon
Jesse Turner
Vince Agne
who are all Seattle based freelance live sound engineers who frequently if not always mix monitors. Bios and pictures are below.
Moderator will be Dan Mortensen, current AES PNW Section Chair and owner of a smallish live sound company for nearly 50 years.
This will be a hybrid Zoom and In-Person meeting, with registration for both required through Eventbrite. The in-person part will be in the warehouse of a very large concert PA provider in Seattle, Washington, USA, and if you're online we will do our best so you can interact with us just as if you were there. Questions will be welcomed at any time, and relevant experiences and arguments will be similarly welcomed. Attendees whether online or in-person will sign up for either free or make-a-donation tickets that are otherwise equal, and make a choice at that time for in-person or online attendance.
Since we may be through with COVID but it is clearly not through with us, all in-person attendees including staff will be required to wear masks appropriately at all times during the meeting. We will provide water, and you can move your mask while the bottle is at your lips. If that's unacceptable, please join us online.
We will do our best to simulate a live concert experience in the warehouse, and our guests will demonstrate their techniques in real time at real volume levels, so you may want to bring appropriate ear protection for yourself. The room will get loud, since that's a big part of what we're trying to show, how an omni mic, or a bunch of them, can be made to work in the path of a big PA.
We'll have cameras pointing at the presenters and the screens they're operating, so we can see what they are doing as they are doing it, and the audio from the console will be routed into the Zoom (Original Sound ON) so you can hear what they are doing.
If this sounds as much like your idea of fun as it does ours, we hope you'll join us.
About Our Presenters: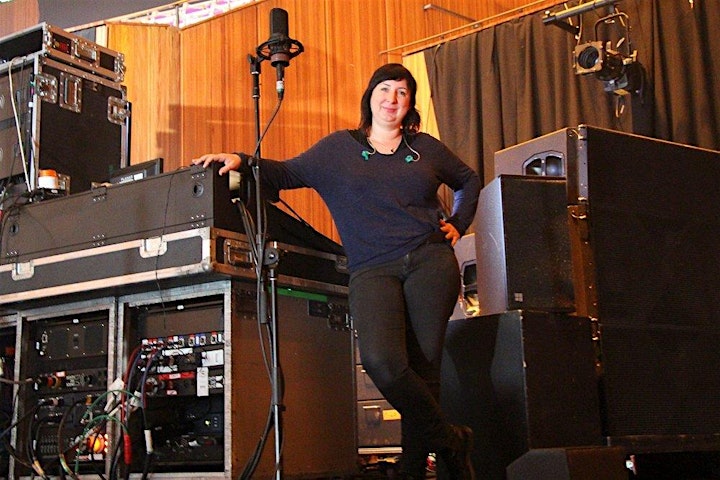 Christina Moon is a sound engineer from Seattle Washington. Working in the music industry for over twenty four years, her love of audio started at an early age, sneaking out to any show she could. Christina started out as a house engineer in clubs as well as assisting at Studio X in Seattle. She has been a touring monitor engineer for the last nineteen years for bands such as Yeah Yeah Yeahs, Death Cab for Cutie, Interpol, Beach House, Cat Power, LCD Soundsystem and Sleater Kinney.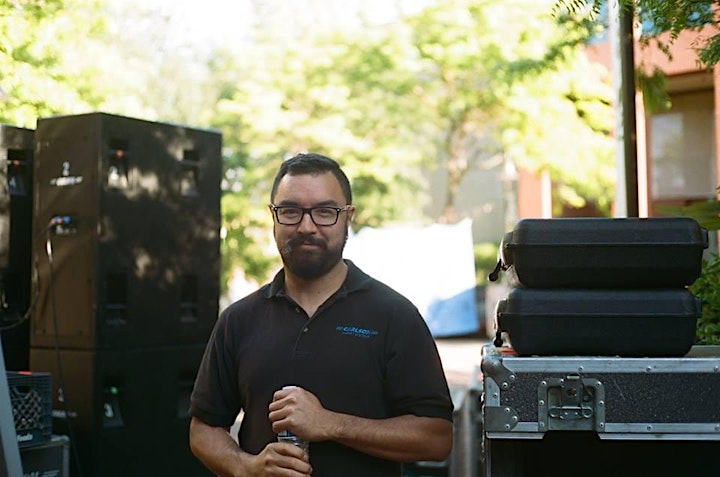 Jesse Turner started working in live sound while going to the University of Hawaii 1998. He was working for the student union putting on concerts and working at the campus radio station while working towards a communications degree, but decided he wanted to pursue live sound instead. Jesse transferred to the Art Institute of Seattle in 2001 and graduated from there in 2003.
Jesse worked at American Music Rentals and Production doing PA, backline, lights, and just trying to make the gear work from 2003 till 2005. He then took a position at Carlson Audio in their rentals department in 2005 and has worked at Carlson till the present doing a variety of roles from stage patch to Monitor tech to System engineer and Crew Chief.
Jesse has been lucky enough to work with and tour with several acts doing monitors: Macklemore, Brandi Carlile, The Head and the Heart, T-Bone Burnett, and Jenny Lewis to name a few and countless hours running monitors at festivals for acts not carrying engineers and many venues around Seattle. He enjoys the challenge of finding out what an artist needs to perform at their best, and understanding that it is unique to each situation.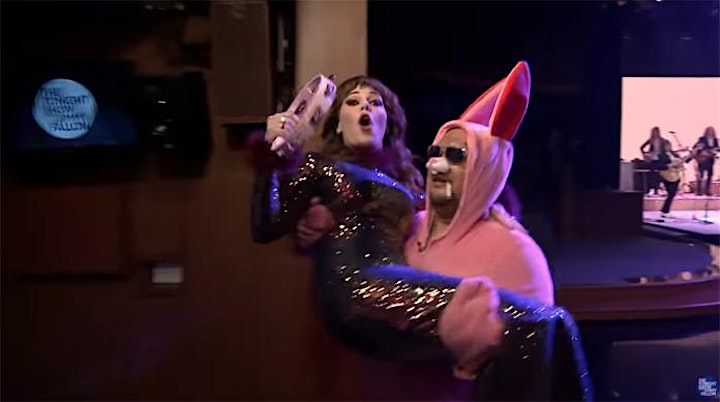 Vince Agne is a Seattle based, freelance live sound engineer. He has been working in the show and entertainment industry for 20+ years. He has worked with Pacific Northwest sound companies Carlson Audio Systems and Dansound, and was a staff engineer at Showbox Market and Showbox SoDo. He's recently toured as a monitor engineer with Jenny Lewis, Fleet Foxes, and Caroline Polachek. When not on the road, you can sometimes find him at gigs in various venues in and around town or at: Seattle Capitol Hill Block Party, Watershed, Bumbershoot, Sasquatch, Washington State Fair Concert Series, or Thing Festival. And, when he's out on the road, you might catch him making people laugh in a costume offstage, onstage, or even on television. The photo is Vince removing Jenny Lewis from the stage on The Tonight Show recently.
This will be a hybrid In-Person and Zoom meeting.
Tickets are free for this event, but there are also a couple of ticket categories that allow you to donate to support our events. All tickets are otherwise equal.
You will need to tell us whether you'll be there in-person or attending online. There is a capacity limit for in-person, and essentially none for online.
In-Person location will be sent to you 2 days before the event. It will be in Seattle, Washington, just South of the Downtown area. There is free street parking and pay lots nearby.
PNW AES Zoom Meetings
We started holding our meetings via Zoom beginning with the April 2020 meeting. Zoom has dramatically increased our reach, well beyond our Section's geographic area. Since doing this, we've regularly had attendees from:
-most Provinces in Canada;
– most countries in:
–Europe,
–Central and South America;
-Japan,
-India,
-Indonesia,
-Malaysia,
-Australia,
-and more. It's been unbelievable how many cool audio people we've met.
Zoom gives the ability to record videos of our meetings, and those recordings are individually posted in our past meetings Archive. For now, the collected videos from our Zoom meetings can be found (mostly) at Dan Mortensen's DansoundSeattle YouTube channel.
We use EventBrite to manage our free tickets to meetings. You are in the right place to RSVP for your ticket for this event.
The Zoom URL and physical meeting location (if this is a hybrid meeting) will be sent in three reminders: two days, the morning of, and two hours before the event starts.
When you register at EventBrite and when you enter the Zoom meeting, please use your real first and last names so we can get to know each other. You do NOT need to create an EventBrite account to register.
Please Note
In order to maintain decorum and avoid interruptions, even unintended ones, we have established a few ground rules for meeting attendees:
1. We want to see your full name on display in Zoom at the meeting.
2. The presenter(s) will determine if they can accept questions during the presentation, or wait until specific Q&A times, and that will be announced at the beginning of the meeting. (We often use the "chat" feature to allow attendees to ask questions when they think of them, with moderators passing them on to the presenter at the appropriate time.)
3. Please mute your microphone when not talking (a moderator may mute you if you haven't muted yourself; if they do, Zoom won't let you un-mute until a moderator clears you again.)
4. Based on our experience with no-shows, we reserve the right to issue more tickets than available slots. We don't want to turn people away based on inaccurate estimates of attendance, but we do have budgetary limits to the number of slots we can make available. If we reach capacity before you log in, we regret that we may have no way to expand capacity at the last minute.
5. Some presenters are distracted when confronted by a sea of video faces or other images, so for some meetings we may ask that you turn your camera/images off during the presentation. If you forget, one of our moderators may do it for you, and you may or may not get a private chat note informing you.
6. During the meeting, there is the matter of your camera. We're going to leave that up to the presenter; whether they want to see their audience while they present or not. If they want to see who they're talking to, then you can leave your camera live or not, as you prefer, however if the presenter doesn't want to see the audience, then we'll ask you to turn your video off.
7. Moderators have the ability to globally turn everyone's video off, however turning it back on is troublesome; we are forced to turn cameras back on manually, one by one. There is no way for you to override that. You'll need your camera live later in the meeting for the self-introductions.
8. Best is that if we ask for cameras to be on or off, that you do this individually on your own.
9. It would be good if you watched the chat stream during the meeting. Not only is it a way to submit questions to the presenters, but it's also a way for others to contact you personally. You have the option there to direct your comment to anyone who is part of the meeting as well as to one person in particular.
Finally, in the rare instance of behavior by an attendee that moderators believe is disruptive, we reserve the right to immediately eject such attendees.