A Repair-centric approach to Audio Gear Repair: Need vs. Demand, & more
December 5 @ 6:00 pm - 10:00 pm
Is there a shortage of technical expertise to meet demand? A long-time audio technician looks at that problem, with a take on repairing
ZOOM MEETING 6:00PM PDT (UTC -8 once Daylight Savings Time goes away)
Monday December 5, 2022
Presented by Eddie Ciletti, long-time audio gear fixer and writer
and
The Pacific Northwest Section of the Audio Engineering Society
Today's audio engineer covers a rather wide demographic – in age and aesthetic – ranging from those who are actively recording and mixing to archivists. The "active" include those who primarily rely on musicianship (classical and jazz), to those who use the recording environment as a creative tool. The "active" groups range from obsessing about sonic accuracy to pushing for as much sonic color as possible. The archivists are coping with a shortage of technical expertise and medium degradation (analog and digital tape being the primary examples).
From a technician's perspective, each client's needs – and budget – are unique. It becomes necessary for the technician to ask a range of questions, not the least of which is, "What is your budget window?" Unlike auto repair, which for a modern vehicle is fairly predictable in terms of price and turn-around, audio technology ranges from the repairable to the disposable and within that, reviving vintage gear is akin to classic car restoration. Aside from expertise, repairs are typically labor intensive. We have gotten used to "affordable" gear, built by robots, from countries that do not have the same "protections" in terms of labor and environmental laws. And, if the gear was made in this century, chances are good the manufacturer will not provide documentation.
Subjects to be covered include but are not limited to:
-Challenges of vintage and retro gear repair.
-Analog and digital archiving essentials.
-What are you willing to pay?
-What's your DIY level?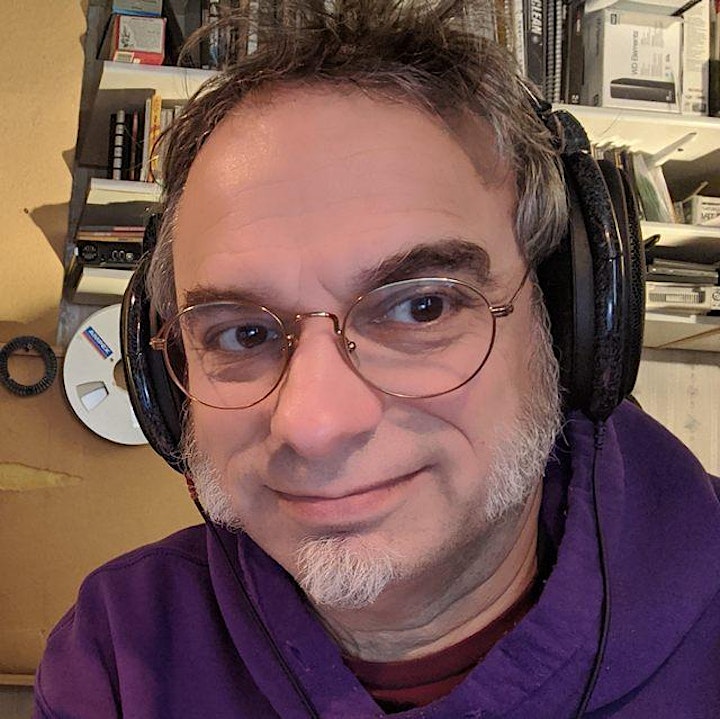 About our Presenter:
Eddie Ciletti has been a (mostly) self-employed audio technician for nearly 40 years. Prior to venturing out on his own, he was a technician for producer/engineer Eddy Offord, R/Greenberg Associates, Bearsville Studios, Atlantic Studios, and Record Plant Recording Studios, where he was part of the team that produced Live Aid.
He is also an independent recording and mastering engineer, and spent 10 years as an analog recording and electronics instructor. He has extensive expertise in analog, digital, and disc recording equipment.
In lieu of cakes, he prefers baking tapes.
This will be a Zoom meeting.
Tickets are free for this event, but there are also a couple of ticket categories that allow you to donate to support our events. All tickets are otherwise equal.
PNW AES Zoom Meetings
We started holding our meetings via Zoom beginning with the April 2020 meeting. Zoom has dramatically increased our reach, well beyond our Section's geographic area. Since doing this, we've regularly had attendees from:
-most Provinces in Canada;
– most countries in:
–Europe,
–Central and South America;
-Japan,
-India,
-Indonesia,
-Malaysia,
-Australia,
-and more. It's been unbelievable how many cool audio people we've met.
Zoom gives the ability to record videos of our meetings, and those recordings are individually posted in our past meetings Archive. For now, the collected videos from our Zoom meetings can be found (mostly) at Dan Mortensen's DansoundSeattle YouTube channel.
We use EventBrite to manage our free tickets to meetings. You are in the right place to RSVP for your ticket for this event.
The Zoom URL and physical meeting location (if this is a hybrid meeting) will be sent in three reminders: two days, the morning of, and two hours before the event starts.
When you register at EventBrite and when you enter the Zoom meeting, please use your real first and last names so we can get to know each other. You do NOT need to create an EventBrite account to register.
Please Note
In order to maintain decorum and avoid interruptions, even unintended ones, we have established a few ground rules for meeting attendees:
1. We want to see your full name on display in Zoom at the meeting.
2. The presenter(s) will determine if they can accept questions during the presentation, or wait until specific Q&A times, and that will be announced at the beginning of the meeting. (We often use the "chat" feature to allow attendees to ask questions when they think of them, with moderators passing them on to the presenter at the appropriate time.)
3. Please mute your microphone when not talking (a moderator may mute you if you haven't muted yourself; if they do, Zoom won't let you un-mute until a moderator clears you again.)
4. Based on our experience with no-shows, we reserve the right to issue more tickets than available slots. We don't want to turn people away based on inaccurate estimates of attendance, but we do have budgetary limits to the number of slots we can make available. If we reach capacity before you log in, we regret that we may have no way to expand capacity at the last minute.
5. Some presenters are distracted when confronted by a sea of video faces or other images, so for some meetings we may ask that you turn your camera/images off during the presentation. If you forget, one of our moderators may do it for you, and you may or may not get a private chat note informing you.
6. During the meeting, there is the matter of your camera. We're going to leave that up to the presenter; whether they want to see their audience while they present or not. If they want to see who they're talking to, then you can leave your camera live or not, as you prefer, however if the presenter doesn't want to see the audience, then we'll ask you to turn your video off.
7. Moderators have the ability to globally turn everyone's video off, however turning it back on is troublesome; we are forced to turn cameras back on manually, one by one. There is no way for you to override that. You'll need your camera live later in the meeting for the self-introductions.
8. Best is that if we ask for cameras to be on or off, that you do this individually on your own.
9. It would be good if you watched the chat stream during the meeting. Not only is it a way to submit questions to the presenters, but it's also a way for others to contact you personally. You have the option there to direct your comment to anyone who is part of the meeting as well as to one person in particular.
Finally, in the rare instance of behavior by an attendee that moderators believe is disruptive, we reserve the right to immediately eject such attendees.